Recently I had a friend ask me if I had the time to build him a desk for his new home office.  He was concerned about time because my wife and I had just welcomed our first child a month earlier. So, naturally, I agreed immediately to do the build.  It was one of those times that I was going to ask for forgiveness rather than permission.
After talking with Travis about what he was looking for in a home office desk, I had my inspiration.  He sent me  a picture of what he wanted and asked me to replicate it.
The first part of the build I planned on was wood for the desktop and shelves.  After three renderings, we decided the final measurements should be 60″W x 31″H x 28″ D.  With the dimensions agreed upon I set out to rip down some wood to size.  This is my favorite part of a build because almost nothing  smells better than fresh cut wood.   After the wood was cut to size, it was time to construct the desktop and shelves.
Once the shelves and desktop were joined together it was time to stain.  A trick I have learned in making wood look vintage is to soak steel wool in vinegar over night, but I needed to make it darker, so I added walnut stain to soak for two days.  Once I put it on the wood I could not love it anymore.  Added on top of the stain is two coats of clear.
With all the wood complete for the desk it was time to get the metal cut, welded and painted.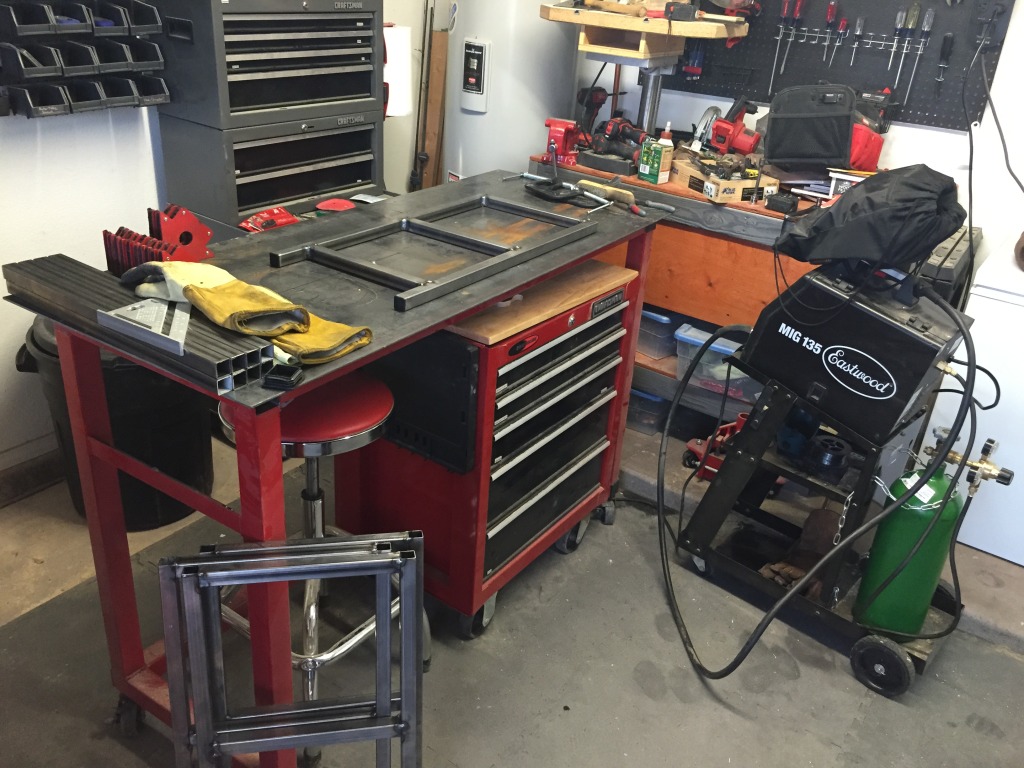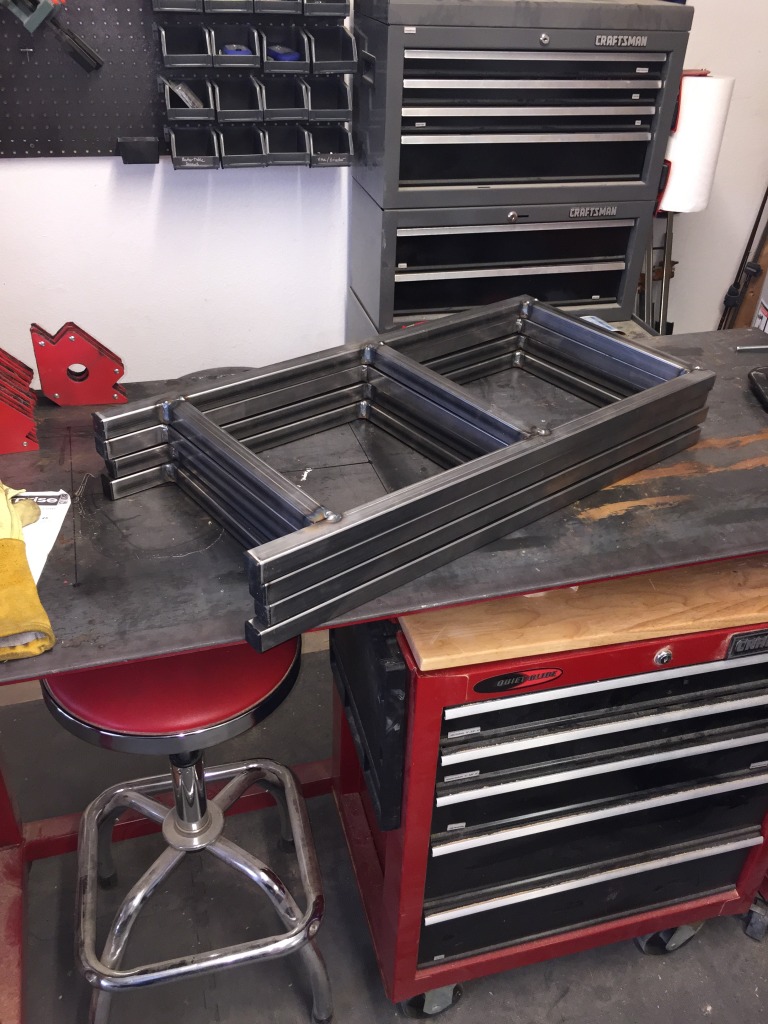 Once the front  and rear leg frames were welded, I welded two together with four braces to make the two shelving frames.  At this time I also drilled holes through the metal frame where I planned on securing the wood top and shelves . Then using an angle grinder I went over all the welds and holes to make them smooth.
I decided to give the desk the next look possible, I would paint the metal frames.  For my paint choice I decided to go with the Rust-oleum Universal Flat Metallic Soft Iron Color.  I let the paint dry over night before attaching the wood top and shelves.  I chose to use Spax 2″ hex lags to join them together.  I pre drilled holes in the metal frame before painting to secure the wood to the metal from underneath.  I had to measure out the lip on the front, back and sides before attaching the two metal frames to the wood top.  After the top was secured I attached the top two shelves while the table was right side up.  To complete the two bottom shelves I flipped the entire table over to secure the final shelves.
And after the last lag bolt was secure, I was finished!  Here are a couple shots after it was completed.